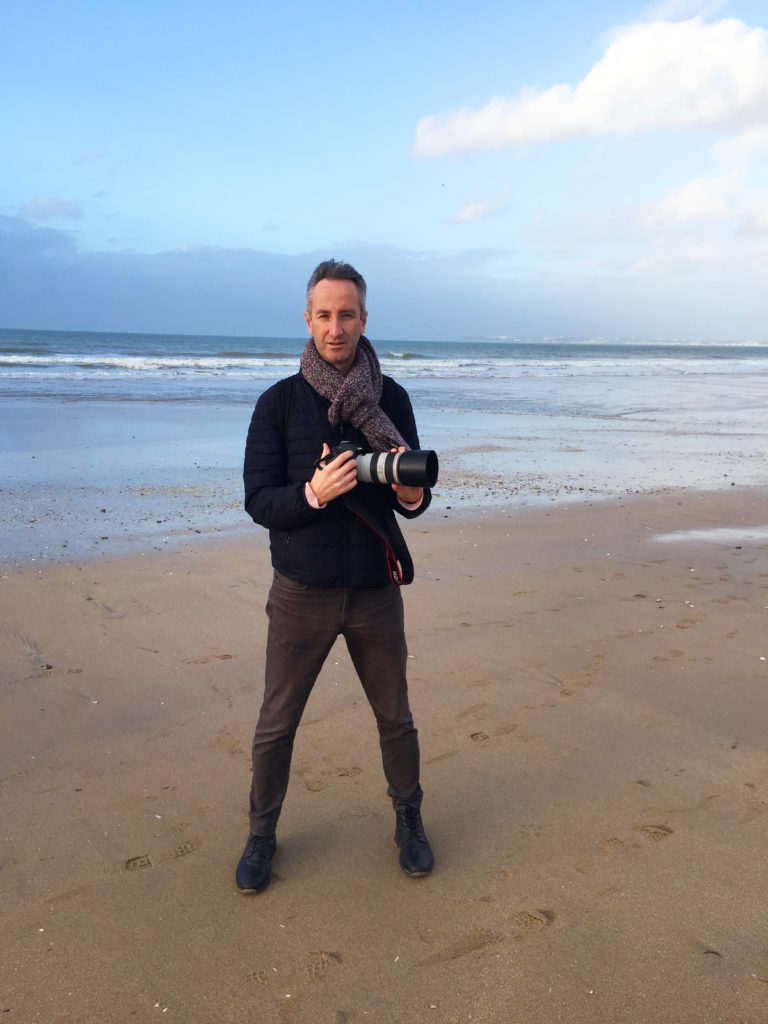 Son travail photographique souhaite mettre en lumière les moments magiques et importants de la Vie ainsi que la beauté de notre terre. Il se sert beaucoup de son hypersensibilité pour écrire ses séries photos qu'il argumente avec de l'écriture et des dessins. L'eau a toujours été un vecteur d'inspiration pour lui. La douceur, la sensibilité, la poésie caractérisent le plus souvent ses photos…
Les effets avec la lumière naturelle occupent également une grande place . Il leur donne le plus souvent une personnalité propre. La chose primordiale c'est l'oeil et la façon avec laquelle ses sentiments en regard d'une scène, quelle qu'elle soit, réussiront à captiver l'émotion des personnes qui observeront ses photographies.
Il est diplômé d'un Bachelor de l'école de Photographie EFET Paris et membre de la Société des auteurs dans les arts graphiques et plastiques (ADAGP).
———-
His photographic work wishes to highlight the magic and important moments of Life as well as the beauty of our land. He uses a lot of his hypersensitivity to write his photo series that he argues with writing and drawings. Water has always been a source of inspiration for him. Softness, sensitivity, poetry most often characterize his photos…
The effects with natural light also occupy a big place . He usually gives them a personality of their own. The most important thing is the eye and the way in which one's feelings about a scene, whatever it may be, will captivate the emotions of the people who will watch his photographs.
He graduated with a Bachelor from the School of Photography EFET Paris and member of the Society of Authors in the Graphic and Plastic Arts (ADAGP)..
Expositions
– Galerie Art&Miss, (Le marais, Paris)
– Exposition « La grande bleue », Aéroport de Nice Côte d'Azur
– Grand Marché d'Art Contemporain Paris Bastille
– Galerie Monod (La Motte Piquet, Paris)
– Galerie Talbot (Saint Germain des Prés, Paris)
– Vente aux enchères de S.A.S. la Princesse Stéphanie de Monaco au profit de son association « Fight Aids Monaco » dirigée par Art Curial Paris. Dons de quatre photos durant quatre années. ​
Publications
– L'Oeil de la Photographie, 2022, série « Mon Poisson d'Avril », France
– L'Oeil de la Photographie, 2022, série « Lettre à ma chère Mer », France
– L'Oeil de la Photographie, 2021, série « Mon 1er bain de mer », France
– L'Oeil de la Photographie, 2021, série « Une rose à la mer », France
– L'Oeil de la Photographie, 2021 , série « Mon instant de Bonheur », France
– OPENEYE, 2019, série « Angelo », France
– EFET Photographie, 2019, France
– Fight Aids Monaco, 2017, Monaco
– Fight Aids Monaco, 2016, Monaco
– Art PleiDA International, 2015, France
– L'Oeil de la Photographie, 2012, France
– Fight Aids Monaco, 2012, Monaco
– Fight Aids Monaco, 2011, Monaco