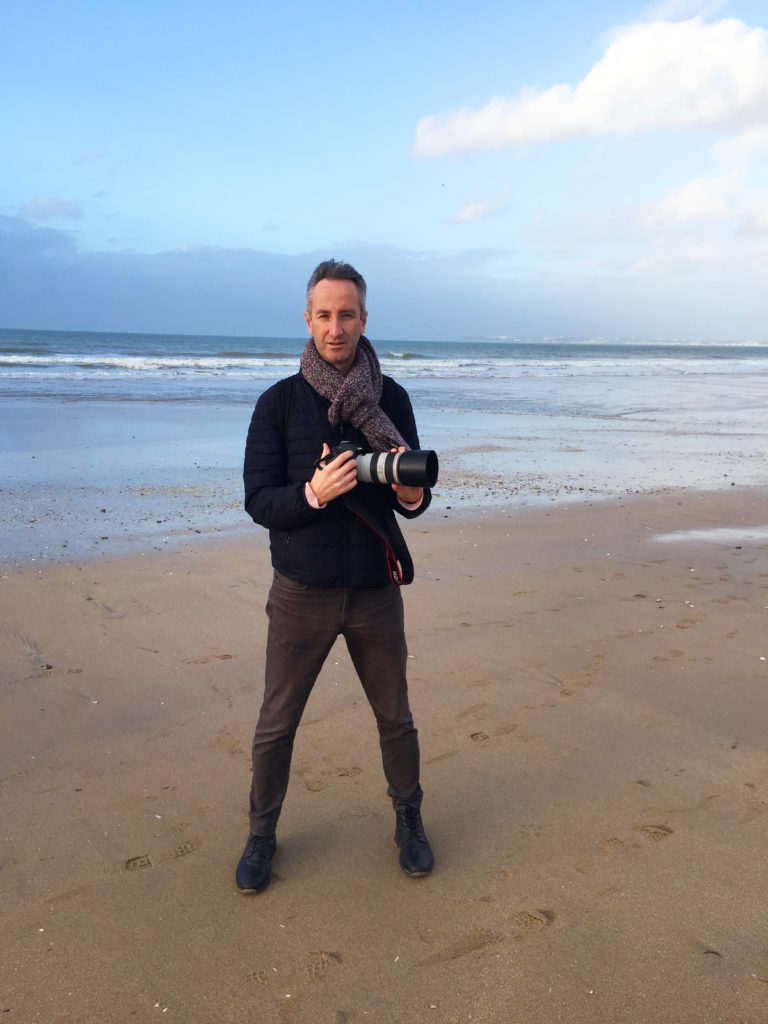 Pour son treizième anniversaire, son père lui a offert un appareil Polaroid. La découverte de la photographie lui a permis de lutter contre sa timidité. Depuis, il la conçoit comme un moyen d'arrêter le temps, de transmettre aux générations à venir. Ce qui compte avant tout pour lui, c'est l'émotion.
 Son travail photographique souhaite montrer essentiellement les comportements de la vie sous toutes ses formes. 
 Les effets avec la lumière naturelle occupent également une grande place dans ses photos. Il leur donne le plus souvent une personnalité propre. La chose primordiale c'est l'oeil et la façon avec laquelle ses sentiments en regard d'une scène, quelle qu'elle soit, réussiront à captiver l'émotion des personnes qui observeront ses photographies.
  Il est diplômé de l'école de Photographie EFET Paris.
———-
 For his 13 years old, his father offers him a Polaroid camera. Then follows the discovery of this new photographic's world that allows him to fight against his shyness. He perceives photography as the means of immortalizing a given moment in order to transmit it to future generations. The most important for him it's the emotion.
His photographic work aims to show essentially the behavior of life in all its forms.
The effects with natural light also occupy a big place in his photos. He usually gives them a personality of their own. The most important thing is the eye and the way in which one's feelings about a scene, whatever it may be, will captivate the emotions of the people who will watch his photographs.
 He graduated from the School of Photography EFET Paris.
Expositions
– Galerie Art&Miss, (Le marais, Paris) 
– Exposition « La grande bleue », Aéroport de Nice Côte d'Azur
– Grand Marché d'Art Contemporain Paris Bastille
– Galerie Monod (La Motte Piquet, Paris)
– Galerie Talbot (Saint Germain des Prés, Paris)
– Vente aux enchères de S.A.S. la Princesse Stéphanie de Monaco au profit de son association « Fight Aids Monaco » dirigée par Art Curial Paris. Dons de quatre photos durant quatre années. ​
Publications
– L'Oeil de la Photographie, 2021, série « Mon 1er bain de mer », France
– L'Oeil de la Photographie, 2021, série « Une rose à la mer », France
– L'Oeil de la Photographie, 2021 , série « Mon instant de Bonheur »,  France
– OPENEYE, 2019, série « Angelo »,  France
– EFET Photographie, 2019, France
– Fight Aids Monaco, 2017, Monaco
– Fight Aids Monaco, 2016, Monaco
– Art PleiDA International, 2015, France
– L'Oeil de la Photographie, 2012, France
– Fight Aids Monaco, 2012, Monaco
– Fight Aids Monaco, 2011, Monaco